This is an archived article and the information in the article may be outdated. Please look at the time stamp on the story to see when it was last updated.
WESTWOOD, Calif. (KTLA) — The L.A. District Attorney has not yet filed charges against a UCLA water polo player accused of raping another student.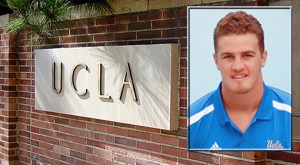 Hakop Jack Kaplanyan, 18, was supposed to be arrainged on Thursday morning, but instead, no charges were filed.
UCLA officials said the woman and Kaplanayan are acquaintances.
She filed a report with campus police late on April 2, the same day she claims he raped her in his dorm room.
Kaplanayan was arrested a few hours later, and then reportedly released from jail two days after.
Prosecutors would not say why charges weren't filed, but said that the case is "under review for refiling consideration."
After the allegation came to light, Kaplanyan was suspended from UCLA.
His attorney, Berc Agopoglu, said he will try to get UCLA to re-admit his client, according to a posting on his law firm's Facebook account
Agopoglu previously issued a statement saying: "I anticipate this case will be examined fairly and objectively as it has been my experience so far with them.
"Needless to say, Mr. Kaplanyan and his family are devastated and shocked by teh recent developments."
He added, "My client and I informed Dean of Students Robert J. Naples and Assistant Dean of Students Ms. Valery Holtom that we want to appeal the interim suspension of Mr. Kaplanyan's attendance at UCLA.
"Mr. Kaplanyan is completely innocent. We believe this matter will be resolved once the investigation is completed within its due course."
Kaplanyan, a red-shirt freshman who plays the attacker position, grew up as a star athlete in Glendale.
His family has vehemently denied the accusations, maintaining that he is innocent.
"It's so easy for them to just accuse a person without like telling the truth," his mother Marine Kaplanayan told KTLA.
"My son is innocent, I can tell you that and we're going to prove that, because he's not one of those guys," she insisted.
According to his profile on the UCLA Athletics site, Kaplanyan played at Hoover High School. He was a three-time first team All-CIF selection and was twice named the league MVP.
As a sophomore in 2009, he set what was then the CIF single-season record of 229 goals.