This is an archived article and the information in the article may be outdated. Please look at the time stamp on the story to see when it was last updated.
A former UCLA freshman water polo player whose family has publicly proclaimed his innocence was indicted Monday of forcible rape and other criminal charges, the Los Angeles County District Attorney's Office announced.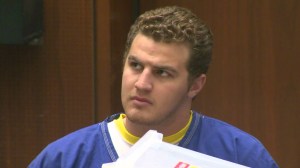 Hakop Jack Kaplanyan, a 19-year-old from Glendale, pleaded not guilty after a grand jury indictment was unsealed Monday morning, the DA's office said in a news release.
Accused of assaults involving three victims between October 2012 and April 2013, Kaplanyan was arrested Friday. He was suspended by UCLA in April after having been initially arrested on suspicion of rape after an acquaintance said he had raped her in a dorm on campus.
His attorney at the time, Berc Agopoglu, had invited media to his office in an April news conference at which Kaplanyan said he was innocent. His mother told KTLA at the time of the initial arrest that he was not guilty and "not one of those guys."
The DA's office initially declined to file charges against Kaplanyan following his arrest, a fact that was celebrated after a scheduled arraignment by Kaplanyan and his supporters outside the courthouse, according to a post on Agopoglu's Facebook page.
Agopoglu said Monday that he no longer represented Kaplanyan.
"As his former attorney, I cannot speak on his behalf anymore, but I must say he is completely innocent," Agopoglu said in response to a KTLA inquiry.
Kaplanyan was charged with one felony count each of forcible rape, false imprisonment by violence, possession of matter depicting a minor engaging in sexual conduct, and two felony counts each of foreign object and assault with intent to commit rape. He also faced a misdemeanor count of sexual battery by restraint, the DA's office stated.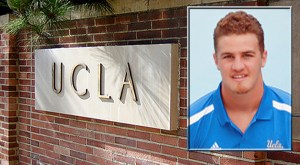 According to the indictment, the charge for possession of child pornography involves "video and still images on computer hardware and data storage media" that were allegedly knowingly possessed by Kaplanyan on April 30, 2013 — after the DA's office had initially declined to file charges based on the rape allegations.
Kaplanyan three alleged victims were identified by first name and last initial in the indictment. In the sexual battery count, the indictment lists an unnamed accomplice.
Kaplanyan wore a blue jail uniform at a bail hearing Monday afternoon where a judge set his bail at $590,000. His new attorney, George Mgdesyan, had requested that his bail be $200,000, saying his client had no criminal record.
Outside the downtown L.A. courthouse, Mgdesyan said that "in certain interviews," the alleged victims said they had "consensual sex."
"There's a lot of inconsistencies in their statements. There's a lot of issues as to credibility, I believe," Mgdesyan said.
His family brought a bail bondsman to the courtroom, and Kaplanyan had bailed out of custody at 5:35 p.m., online county inmate records indicated.
He was scheduled to next appear in court April 29.
He faces more than 37 years in prison if convicted as charged.