This is an archived article and the information in the article may be outdated. Please look at the time stamp on the story to see when it was last updated.
UCLA faced off against the University of Oklahoma Sunday in a gymnastics meet where the air was full of solidarity for members of both teams who suffered sexual abuse at the hands of Larry Nassar.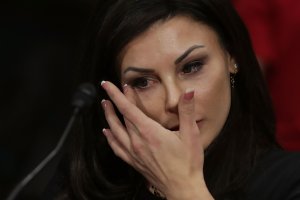 The event honored five Nassar survivors: Olympic medalists Jordyn Wieber and Jamie Dantzscher, fellow UCLA alumni Mattie Larson and Jeanette Antolin, and University of Oklahoma sophomore Maggie Nichols.
All five women hugged one another and their teammates as the audience on the UCLA campus in Los Angeles cheered.
The competition concluded with a powerful video in which gymnasts from both universities thanked the survivors "who are using their voices to change the world and the sport that unites us all for the better."
"These are two of the best teams in the country, uniting to show support and to show that we can be stronger together," said Liza David, a UCLA Athletics spokeswoman, told the Los Angeles Times. "We have so many athletes who were affected."
Nassar, a former doctor for USA Gymnastics, will spend the rest of his life in prison after he admitted to using his position as a trusted physician to sexually abuse young girls under the guise of providing medical treatment. Larson was one of many victims who testified at his sentencing.