This is an archived article and the information in the article may be outdated. Please look at the time stamp on the story to see when it was last updated.
A search was underway Sunday for a group of males who beat and raped a female student from the University of California Santa Barbara, authorities said.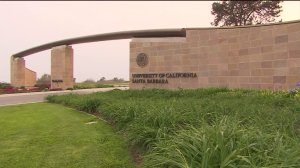 The 19-year-old was attacked between 11 p.m. Saturday and 4 a.m. Sunday, according to a statement from the Santa Barbara County Sheriff's Department.
The victim was able to return to her home in Isla Vista, where she notified a roommate and authorities, officials said.
The young woman was taken to an area hospital for an examination, and to be treated for her injuries. She was later released and was with her family Sunday night, said Kelly Hoover, spokeswoman for the Sheriff's Department.
A sheriff's K-9 unit and University of California police officers were searching the UCSB campus and the Isla Vista area to determine where the incident occurred.
Authorities were also seeking information that will help them identify and locate the attackers, who are described only as Asian males.
"We have two really big challenges in this case: there were no witnesses that we know of, and we don't have much detail as to the description of the suspects," Hoover said.
"It's disgusting that people would do that," said Julia Gellar, a UCSB student. "Honestly, it's devastating. I can't believe that someone would take advantage of someone like that. The poor girl."
Another sexual assault in Isla Vista had been reported earlier Saturday, authorities said. A woman said she was attacked outside a party about 1:30 a.m.
On Jan. 18, three young men were arrested in Isla Vista on suspicion of rape in concert, which is charged when two or more people act together to commit rape or other sexual assaults, the Sheriff's Department said.
Anyone with information is urged to call 911, or to leave an anonymous tip at 805-681-4171.