This is an archived article and the information in the article may be outdated. Please look at the time stamp on the story to see when it was last updated.
FOUNTAIN VALLEY, Calif. (KTLA) — Several people were injured when a vehicle crashed into a Fountain Valley tutoring center on Monday.
Peter Hauk, 76, crashed his 2011 black Buick into the Tutoring Club in the 9900 block of Ellis Avenue about 12:30 p.m., according to a statement from  Fountain Valley Police.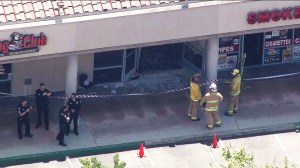 Aerial video from Sky5 showed a huge hole in the wall of a strip mall located near the intersection of Brookhurst Street and Ellis Avenue.
Two men ages 20 and 32 years old, were trapped under the vehicle.  They suffered traumatic life-threatening injuries.
Three others suffered minor injuries, including two 15-year-old boys and a 67-year-old woman.
All the victims were transported to area hospitals including the driver.
Anyone with information was urged to call (714) 593-4481.