This is an archived article and the information in the article may be outdated. Please look at the time stamp on the story to see when it was last updated.
VENICE, Calif. (KTLA) — One person has died after being struck by a vehicle in a Venice hit-and-run that left 11 other pedestrians injured, authorities said.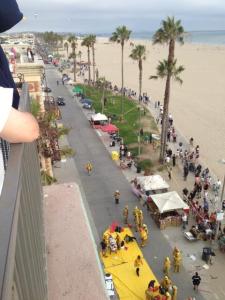 The incident occurred about 6 p.m. near the intersection of Dudley Avenue and Ocean Front Walk, according to the Los Angeles Fire Department.
Initial reports indicated that two of the victims were critically injured and two others were in serious condition.
One of the victims died at a hospital Saturday evening, according to Lt. Andrew Neiman of the Los Angeles Police Department.
A man was detained in Santa Monica Saturday evening in connection with the incident, Neiman said.
Witnesses said the driver of the dark-colored sedan was "moving purposefully" at about 20 mph when the vehicle struck several pedestrians and tables near the boardwalk, according to LAFD spokesman Brian Humphrey.
"It was unreal. It looked like bowling pins," a man who witnessed the incident told KTLA. "It was outrageous."
"If this was an intentional act that certainly raises the stakes quite a bit," Neiman said. "It's horrendous no matter what the intent was, but the fact that this individual left the scene of these accidents and did not render aid — as required by law — at minimum is a felony hit-and-run."
Ocean Front Walk was expected to remain closed Sunday as Los Angeles police continued their investigation.