This is an archived article and the information in the article may be outdated. Please look at the time stamp on the story to see when it was last updated.
Two people were arrested and a police officer was injured after violence erupted when hundreds of people who had gathered for a drum circle on the Venice boardwalk were told to disperse Sunday night, authorities said.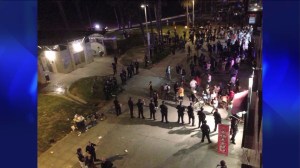 The incident occurred around 8:30 p.m. on Ocean Front Walk and Breeze Avenue (map), according to Lt. Marco Munoz of the Los Angeles Police Department's Pacific Division.
Between 400 and 500 people had gathered during the evening as part of a weekly drum circle when police arrived, Munoz said.
Citing beach rules, officers attempted to break up the drum circle, according to Munoz.
However, hundreds of people refused to move and a skirmish later began, authorities said.
Video from the scene showed officers lined up on the beach at one point, and some members of the crowd throwing bottles at them.
One officer was treated for injuries he sustained after a bottle hit his leg, according to Munoz. Another bottle broke the window of a police vehicle, he said.
The crowd eventually dispersed, with the exception of one person who rushed the police line and another person who refused to move, according to Munoz.
Police arrested them for "interfering," Munoz said. They were taken into custody and later released.
The weekly drum circles in Venice are normally a "peaceful occurrence," according to Munoz.
KTLA's Justin Burton, Wendy Burch and Tracy Bloom contributed to this report.