This is an archived article and the information in the article may be outdated. Please look at the time stamp on the story to see when it was last updated.
LONDON (KTLA) – British journalist David Frost, who gained fame for his 1977 interviews with former President Richard Nixon, died Saturday night, his family said.
Frost was on the cruise ship Queen Elizabeth, when he had a suspected heart attack, his relatives told the BBC.
He was 74-years-old.
The ship left Britain Saturday and was on its way to the Mediterranean, according to media reports.
The broadcasting legend was set to give a speech during the cruise when he was found dead.
A statement from his relatives said, "His family are devastated and ask for privacy at this difficult time. A family funeral will be held in the near future and details of a memorial service will be announced in due course."
The Oscar-nominated 2008 film "Frost/Nixon" was based on Frost's interviews with Nixon.
The film was directed by Ron Howard, and won a string of awards.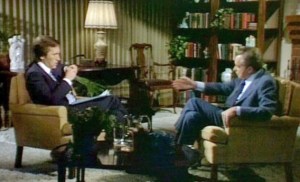 It starred Michael Sheen and Frank Langella.
In a 2009 interview about the film, Frost told CNN his conversations with Nixon were challenging.
"It was amazing to discover how … hopeless he was at small talk," Frost said.