This is an archived article and the information in the article may be outdated. Please look at the time stamp on the story to see when it was last updated.
Volunteers and Los Angeles County Sheriff's Department investigators continued to search Tuesday in the area of Castaic Lake for an Orange County teen whose vehicle was found there more than 10 days before.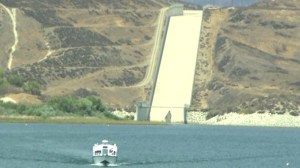 The effort to find Bryce Laspisa was persistent, even as no word had been heard from him since the early morning hours of Aug. 30, when he told his mother he was too tired to drive.
Laspisa, 19, had been on his way home to Laguna Niguel from Sierra College outside of Sacramento. Hours after he called his mother Karen, his SUV was found on its side near Castaic Lake.
The vehicle's rear window was smashed, and Laspisa's wallet and cell phone were still in the car.
On Sept. 4, a burning male body was found nearby, and coroner's officials said it had not been identified as of Tuesday. Homicide detectives had placed a security hold on the coroner's investigation, meaning no information would be immediately publicly released.
Meanwhile, divers with the sheriff's department searched an area near a spillway into Castaic Lake on Tuesday.
A volunteer effort coordinated by Laspisa's uncle and father was looking at area campgrounds and other nearby spots where Laspisa might have gone.
The search team, which was being coordinated in part through a Facebook page called Find Bryce Laspisa, was meeting at a Starbucks in the area.
Volunteer searchers — many of whom don't know the Laspisa family personally — had tied orange ribbons on their cars in honor of the 19-year-old, a redhead. They were putting out flyers as well as going over rugged ground in their search for the teen.
"The terrain is really treacherous out there, and it's hard to get to a lot of places, but a lot of the volunteers come back and they have holes in their jeans," volunteer Heidi Leonardt said. "You can really tell, they've gone every place."

Bryce Laspisa's mother remained hopeful  and had been praying, seeking to remain patient with the search, she said Tuesday.