This is an archived article and the information in the article may be outdated. Please look at the time stamp on the story to see when it was last updated.
A wallet was stolen from the inside of a woman's purse at a Home Goods in El Segundo and authorities are looking for a man and woman suspected of being involved.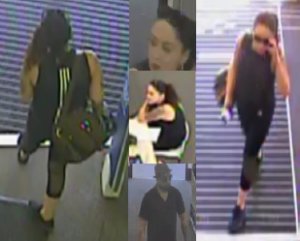 The crime occurred when a woman spoke with an employee at Home Goods at 750 S. Sepulveda Blvd. around 2:20 p.m. April 22, the El Segundo Police Department said in a crime bulletin. While the victim was in conversation, a female thief took her wallet from her purse, police said.
Approximately 30 minutes later, authorities said the female thief made two large purchases at a nearby Best Buy using the victim's credit card.
The female thief is described to have a large tattoo on her upper left arm and a smaller tattoo on her upper right arm, authorities said.
Photos distributed by the El Segundo Police Department show the woman wearing all dark clothing with a large, dark colored tattoo. A man who was apparently with her is shown wearing a black shirt, dark glasses and a dark hat.
If anyone has information, they're asked to contact Detective Kurt Rasmusson at 310-524-2216 or krasmusson@elsegundo.org.