This is an archived article and the information in the article may be outdated. Please look at the time stamp on the story to see when it was last updated.
Hoping to bring attention to their demands for better working conditions, Walmart workers and activists held Black Friday protests at 1500 stores around the country, including two in Southern California.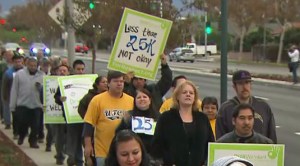 Protesters could be seen marching near a Walmart in Ontario located in the 1300 block of East Mountain Avenue.
The rally started at 6 a.m. on one of the busiest shopping days of the year and was scheduled to continue until 8 a.m.
A second local protest, organized by Warehouse Workers United, began about 12 p.m. near a Walmart in Los Angeles located at 4101 Crenshaw Boulevard.
Activists were demanding higher pay, saying most Walmart employees earn less than $17,000 a year and are forced to rely on government assistance, Warehouse Workers United said.
"Workers have to have a voice," said Sandy Gorman, who participated in the rally at the Crenshaw Walmart. "They have to have a voice in order to be able to support themselves, and that voice has to be heard."
In September, Bill Simon, president and chief executive officer of Walmart, said that less than half of the company's U.S. employees make more than $25,000 per year. The federal poverty level for a family of four is $23, 500.
Simon also insisted the company offers workers many opportunities to grow into managers and earn higher wages.
"We've gotten great feedback from customers," said Rachel Wall, a spokewoman for the retail giant. "What we're seeing inside is a stark difference what what you're hearing outside."
The protesters are calling on Walmart to publicly commit to paying $25,000 a year, and to provide full-time work.
CNN contributed to this report.