This is an archived article and the information in the article may be outdated. Please look at the time stamp on the story to see when it was last updated.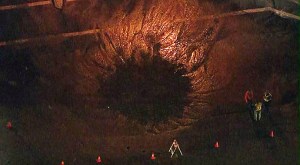 SIMI VALLEY, Calif. (KTLA) — A water main break damaged a large section of asphalt in the middle of a busy Simi Valley intersection Tuesday night.
The break was reported just after 8 p.m. at Tierra Rejada Road and Madera Road.
The cause of the water main break was unknown.
Madera Road was expected to remain partially open for north and south traffic, but drivers should expect delays, according to Simi Valley police.
No traffic was being permitted west on Tierra Rejada road, and that was likely continue into the morning commute, according to police.
Drivers were urged to use alternate routes along First Street, connecting with Royal Avenue to meet Madera Road.
Those who want to go to Moorpark should use the 118 Ronald Reagan Freeway, accessible by First Street, Sycamore Drive, Madera Road, Tapo Canyon Road or other alternatives, police said.