This is an archived article and the information in the article may be outdated. Please look at the time stamp on the story to see when it was last updated.
Firefighters on Sunday continued to escort displaced residents into their apartments to gather personal belongings at a West L.A. high-rise where a fire erupted Friday on the 11th floor.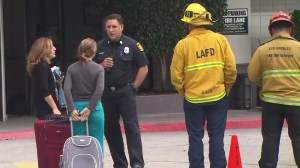 Eight people were injured in the blaze, including a 2-year-old girl and her grandfather who remained hospitalized in critical condition at Ronald Reagan UCLA Medical Center, authorities said. A third victim has been released from the hospital.
Firefighters responded at 11:43 a.m. Friday to the 25-story Barrington Plaza building in the 11700 block of Wilshire Boulevard. Sky5 video showed intense flames and smoke emanating from the building in the 71 minutes before the fire was extinguished.
In an interview with KTLA, the four residents of the unit where the flames originated, who asked not to be identified, said they are college students who had moved into the apartment unit two months ago. Returning to their burned-out home for the first time Sunday, they retrieved items including a safe containing their passports.
One of the residents of the unit said he was the only person at home on Friday, when he awoke to the smell of smell of heavy smoke and ran out.
In an apartment adjacent to the one where the fire began, a fire official said a closed door prevented flames from spreading.
"If you look in the unit, there's very little damage," said Capt. Jamie Moore of the Los Angeles Fire Department. "This is a perfect example of how the door functioned to keep the fire from going inside the unit."
Investigators said the blaze spread to a hallway because a door was left open in the apartment where the fire started.
"The whole place smells like an ash tray," one man said.
"We slept there last night, and I just don't like the idea of having that air," a woman told KTLA. "You look at the little vents and they're all black. I don't know what kind of air is coming in our lungs. I just want to check it out and see that it's O.K. We're going to stay away for a little while."
An investigation into what started the fire is ongoing, authorities said.
Fifty-one units between the 7th and 11th floors remained uninhabitable Sunday, mostly due to water damage.