This is an archived article and the information in the article may be outdated. Please look at the time stamp on the story to see when it was last updated.
Santa Clarita sheriff's deputies were asking for the public's help Wednesday after a severely disabled man's custom wheelchair was stolen from a home in the city.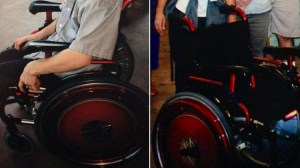 The wheelchair was taken from a home in the 27900 block of Tyler Lane in the Canyon Country area (map) on Feb. 24, according to a news release from the Los Angeles County Sheriff's Department.
The burglary was reported by the mother of a 27-year-old man who suffers from a severe disability, sheriff's Deputy Joshua Dubin said. The Karma-brand wheelchair was custom-made for the son and features a red paint job with "ghost flames," according to the news release.
The mother said the garage door to the home may have been left open before the wheelchair and an attached backpack were taken, authorities said.
Anyone with information regarding the incident or the location of the wheelchair was asked to call the sheriff's Santa Clarita Valley Station.  Those who want to remain anonymous may call L.A. Crime Stoppers at 800-222-8477.