This is an archived article and the information in the article may be outdated. Please look at the time stamp on the story to see when it was last updated.
LANCASTER, Calif. (KTLA) — Hail up to a half-inch in diameter and wind gusts up to 50 mph were being reported Monday afternoon in the Antelope Valley.
There was at least a 20 percent chance of rain in the high desert, forecasters said.
The National Weather Service issued a thunderstorm warning through Monday evening for the Lancaster area.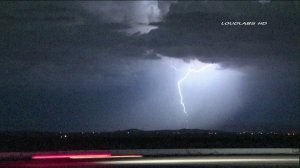 Most of the lightning reported Monday was in the area north of Lake Los Angeles, moving into Kern County, according to the NWS.
Lightning strikes sparked multiple fires in the mountains in eastern Kern County, according to the Kern County Fire Department.
One of the fires, the Shirley Fire, had grown to 250 to 300 acres about two miles west of the Shirley Peak Ski Resort.
The fire was burning in heavy timber, and strong winds were making control efforts difficult, fire officials said.
No evacuations had been ordered, but authorities were suggesting that people be ready to evacuate.
There were over 460 lightning strikes in the San Bernardino mountains Monday morning, according to the San Bernardino County Fire Department.
There were some small vegetation fires, but no structures were damaged.