This is an archived article and the information in the article may be outdated. Please look at the time stamp on the story to see when it was last updated.
After an hours-long search that went past sunset, wildlife officials backed off their pursuit of a California black bear that was discovered roaming a residential neighborhood near Pasadena's Rose Bowl Thursday afternoon, prompting a law enforcement response.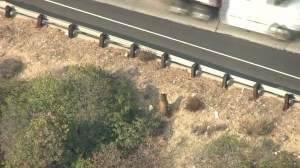 The bear was reported before 3:30 p.m. on the premises of 524 Palisades St., the address of Cleveland Elementary School, according to Pasadena police. The Pasadena Unified School District sent a notice to parents about an hour later that school had been dismissed and all was OK.
Law enforcement and wildlife officials responded, and several appeared to be armed with firearms, apparently for discharging a tranquilizer dart.
Two California Department of Fish and Wildlife wardens were on scene, the department said on Twitter.
"Remember this is a scared, wild animal," the department tweeted.
The Los Angeles County Sheriff's Department reported that the bear had been tranquilized, but the Department of Fish and Wildlife later said that the bear had, in fact, not been darted.
At one point in the afternoon, the bear was seen roaming near the eastbound 210 Freeway exit to Arroyo Boulevard, coming extremely close to guardrails next to moving traffic.
CHP officers temporarily shut down eastbound lanes at about 4:25 p.m. The sheriff's department warned drivers to avoid the area.
The animal then left a hillside area near the freeway and bounded across the north end of Brookside Golf Course toward Linda Vista Avenue. The animal was last seen in trees near the 1800 block of Linda Vista Avenue, aerial video showed.
After the bear disappeared into trees and brush, a search continued for about two hours until wardens backed off.
"Bear is safe in heavy brush and has a safe route" to the Angeles National Forest, the wildlife department said on Twitter just before 7 p.m.
The Arroyo Seco could provide a fairly narrow path north for the bear to return to the San Gabriel Mountains, where bear sightings in foothill communities are not uncommon.
The department warned area residents to be aware that a wild animal was nearby.
Pasadena resident Elisa Gonzales, one of many residents gathered to watch the bear and its pursuers, said she was "feeling sorry" for the animal.
She was "wondering how scared he is, because of the helicopter noise and everybody chasing him," Gonzales said.