This is an archived article and the information in the article may be outdated. Please look at the time stamp on the story to see when it was last updated.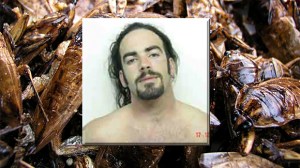 DEERFIELD BEACH, Florida — A man who collapsed during a cockroach-eating contest last month choked to death on bug parts and his own vomit, the Broward County Medical Examiner ruled Monday.
Edward Archbold, 32, had stuffed handfuls of roaches and worms down his throat during an Oct. 5 contest at the Ben Siegel Reptile Store in Deerfield Beach.
The participants were competing for the grand prize of a python.
The <runtime:topic id="ORGOV000075″>Broward Sheriff's Office</runtime:topic> says the winner of the challenge, Edward Archbold, 32, became ill soon after.
Witnesses say Archbold began to throw up the roaches and worms he ate before collapsing in front of the store.
He was taken to the hospital, where he was pronounced dead.
Officials said none of the other participants complained of illness.
Medical Examiner Dr. Craig Mallak determined Archbold "died as a result of asphyxia due to choking and aspiration of gastric contents."
Mallak further cited "findings of airway obstruction by the arthropod body parts." Cockroaches are members of the arthropod family.
Archbold was convicted in 2004 of disorderly conduct and indecent exposure.