This is an archived article and the information in the article may be outdated. Please look at the time stamp on the story to see when it was last updated.
ARLETA, Calif. (KTLA) — Police in Arleta on Tuesday were searching for a gunman who allegedly shot and killed the owner of a wireless store right in front of his business.
It happened around 8:40 p.m. on Monday in the 8900 block of Woodman Avenue, according to a news release from Los Angeles police.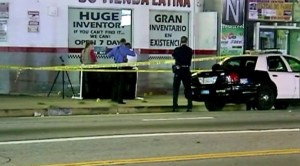 Witnesses reported seeing a heavy-set man confronting the victim, a 34-year-old man, on the sidewalk in front of the store, detectives said.
A bystander flagged down a passing fire truck to help the victim, according to Lt. Paul Vernon, commanding officer of the Mission Detective Division.
Several other calls were made to 911 by witnesses reporting the shooting, Vernon said.
Firefighters and police found the victim shot multiple times, lying on the sidewalk just feet from his business.
He was pronounced dead at the scene. His name was not immediately released.
A woman later arrived, who claimed to be his wife, and confirmed that he had owned the store since February, police said.
It appeared that the victim was closing the business when the deadly confrontation occurred, detectives said.
Police were investigating the incident as an attempted robbery. It was unclear if any items were taken.
Witnesses described the alleged gunman as a heavy-set Hispanic man wearing a white shirt and carrying a gun.
Detectives recovered several cartridges from the gun at the crime scene.
The alleged shooter was last seen running south on Woodman Avenue "for quite a distance," according to police.
Anyone with information was asked to call Det. Efren Gutierrez, Mission Homicide Unit, at (818) 838-9948.
Anonymous tips can also be called into Crimestoppers at 800-222-TIPS (8477), or by texting 274637 with a cell phone. Online tips may be placed at www.LAPDOnline.org.