This is an archived article and the information in the article may be outdated. Please look at the time stamp on the story to see when it was last updated.
Police in Santa Ana have arrested one woman and were continuing to ask the public for help Monday in the investigation into the brutal beating a woman outside a local nightclub.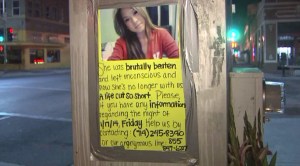 The incident occurred just before 12:30 a.m. Saturday near the Crosby, located in the 400 block of North Broadway (map) in downtown Santa Ana, authorities said.
The victim, identified by friends as 23-year-old Kim Pham, was waiting to get inside the club when an argument broke out with another group of people.
"The victim was kicked about her body and her head, and that's when she went unconscious," said Santa Ana police Cpl. Anthony Bertagna, a spokesman for the department.
Paramedics rushed Pham to an area hospital, where she was listed in extremely critical condition.
Pham's family members said she later died from her injuries. But at a Monday afternoon news conference, police said she was on life support.
One unidentified female suspect — described only as in her 20s and from Santa Ana — had been arrested. Police were still looking for two more men and two other women, authorities said.
Investigators believe witnesses may have recorded or taken photos of the assault, and they asked for members of the public to come forward with any documentation from that night.
A local businessman said he was saddened to learn about the attack.
"I just think it's really sad that on Friday night all these young people were down here to have a good time, and this incident happened," James Kendrick said. "I mean it doesn't make sense to me, and it doesn't make sense to the community how a nice young lady standing in line can be pulled out of line and beaten up by five people."
The woman's loved ones put together a memorial of posters and flowers on an electrical box near where she was left unconscious.
The Crosby was assisting investigators and has posted a message on its Facebook page urging witnesses to contact authorities.
Representatives from The Crosby and Downtown, Inc., a group of local business owners and residents, announced a $5,000 reward in the case on Monday.
Anyone with information was asked to call the Santa Ana Police Department at 714-245-839. You can also call OC Crime Stoppers at 855-847-6227.
KTLA's Kacey Montoya, Chip Yost and Melissa Pamer contributed to this report.