This is an archived article and the information in the article may be outdated. Please look at the time stamp on the story to see when it was last updated.
An elderly woman was killed early Saturday morning when flames swept through her South Los Angeles home, authorities said.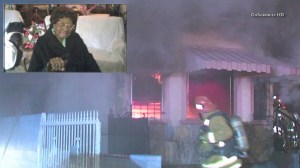 The fire broke out around 3:40 a.m. in the 200 block of East 47th Place (map), according to the Los Angeles Fire Department.
The victim, who neighbors affectionately called "Grandma," was unconscious when paramedics arrived.
She was taken to an area hospital, but died a short time later, the fire department said.
A relative told KTLA the woman's name was Anna Brooks and she was 98-years-old.
A neighbor rushed into the house and tried to save Brooks, but the flames were too intense.
"I went to the back, to try and see if the back door was open, and it was open," Vanessa Torres said.
"I went in… about 10 or 15 feet, but the flames were going too high and the smoke started blinding me," Torres said.
Brooks had lived in the home for about 65 years, her niece Shirley Stewart said.
She was the eighth person killed in a residential fire in Los Angeles this year.
In the previous cases, the homes did not have working smoke detectors.
The fire department said in a statement that there was a smoke alarm in Brooks' house, but it was unclear if it worked.
"First arriving responders and neighbors did not hear any audible alarms," the statement said.
The blaze was caused by a floor furnace, according to the LAFD.