This is an archived article and the information in the article may be outdated. Please look at the time stamp on the story to see when it was last updated.
SANTA ANA, Calif. (KTLA) — A woman suspected of trying to run over a peace officer with her SUV at John Wayne Airport was charged with attempted murder Thursday, according to a news release from the Orange County District Attorney's Office.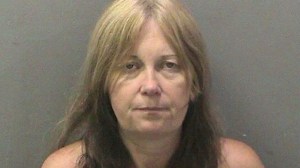 Rebecca Lee McLaughlin, 48, of Newport Beach, is accused of driving her Toyota Sequoia through a closed-lot entrance booth and breaking the barricade to enter a parking structure at the airport at around 10:30 p.m. Tuesday, according to the release.
McLaughlin attempted to exit through the same entrance gate when an officer, who was patrolling the area on his bicycle, rode up next to the SUV in an attempt to stop her, according to the DA's Office.
McLaughlin then allegedly aimed the SUV at the man and accelerated.
The officer was struck by the SUV and thrown about 20 feet inside the parking structure, destroying his bicycle, according to the DA's Office.
McLaughlin then allegedly ran over an elevated curb and hit a parking pole in another attempt to leave the structure.
The officer, who suffered minor cuts and bruises, ran to the disabled SUV and arrested her.
McLaughlin was being held on $1 million bail.
She was facing a possible life sentence if convicted.