This is an archived article and the information in the article may be outdated. Please look at the time stamp on the story to see when it was last updated.
A woman was arrested Wednesday after her alleged attempt to kidnap an 8-year-old girl from an elementary school was prevented by a crossing guard who was nearby, the Los Angeles Police Department reported.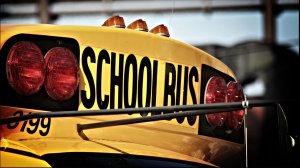 Maria Ramirez, 50, was taken into custody on one felony count of kidnapping in connection with the incident that happened last  month at a local elementary school, officials said. The 8-year-old girl was leaving the school on the afternoon of Aug. 16 in the area of Alexandria and Oakwood avenues when Ramirez allegedly approached her, grabbed her hand and said, "Come on, come on," the LAPD reported.
A crossing guard who witnessed what was happening grabbed the girl's arm and was able to free her from Ramirez, police said.
Officers were called to the scene to investigate the day of the incident, which led to Ramirez being arrested on Wednesday.
Ramirez was being held on $100,000 bail.
Anyone with information is urged to call Rampart Area Det. Dave Ojeda at 213-484-3610. Anonymous tips can be left by calling 800-222-8477, or by going to the website lacrimestoppers.org.