This is an archived article and the information in the article may be outdated. Please look at the time stamp on the story to see when it was last updated.
RIVERSIDE, Calif. (KTLA) — A woman seriously wounded by two pit bulls suffered permanent nerve damage to her arm and eye in the attack, her attorney told KTLA on Monday.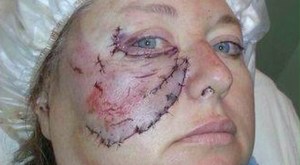 The attack happened just before 11 a.m. on Aug. 12 in the 4000 block of 6th Street in downtown Riverside.
The woman, identified only as "Tina," was walking her dog when the pit bulls escaped their fenced yard and attacked her.
Her small dog "Max" survived the attack, but she was bitten on the right side of her face and also had a wound on her right arm.
"So much of her arm was eaten away… that they can't even close the wound," attorney John Carpenter said.
"This poor woman was just walking down the street and attacked without provocation," Animal Services Director Robert Miller said.
"Her injuries are very serious and our thoughts and prayers go out to her as she recovers from these wounds," he said.
The 2-year-old and 4-month-old pit bulls belonged to her neighbor.  He signed the dogs over to authorities for humane euthanasia after the attack which he called an accident.
The owner was cited for having two stray animals and for having an unlicensed adult dog.
No criminal charges were filed, but Carpenter said he plans to file a civil suit in the next few months against the dog owner and possibly the owner of the house he's renting.