This is an archived article and the information in the article may be outdated. Please look at the time stamp on the story to see when it was last updated.
Police in Glendale were investigating a home invasion that left a 69-year-old woman beaten and terrorized.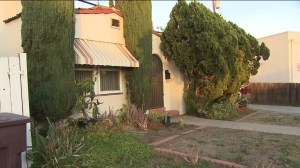 It happened around 10 p.m. on April 17 at a home on North Kenilworth Avenue near Glenoaks Boulevard (map).
The victim, who asked not to be identified, said she was watching TV when two men entered her home.
"They taped my mouth, eyes and hands and… my legs," she said. "He punched me in my belly, my face. I can't see anything."
Her husband came home during the attack and frightened the men away.
Neighbors were shocked that this type of crime could happen where they live.
"This never happened here," said neighbor Olga Rubi. "I'm shocked. You can see we're mostly scared."
The men were described as being between 5 feet 7 inches to 5 feet 9 inches tall with medium builds.
KTLA's Kimberly Cheng contributed to this story.