This is an archived article and the information in the article may be outdated. Please look at the time stamp on the story to see when it was last updated.
A woman was critically injured when flames swept through her room inside a motel Friday night in Orange, authorities said.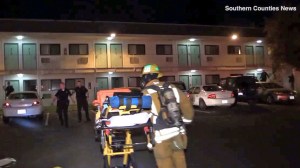 The fire was reported around 9:30 p.m. at a Motel 6 near the 5 Freeway and Chapman Avenue, according to the Orange Fire Department.
Firefighters broke into the woman's room and found her unconscious, the fire department said.
She was taken to nearby UCI Medical Center, where she was listed in critical condition.
Video from the scene showed police officers going door-to-door to get all of the other guests out of the motel.
No one else was injured, officials said.
The cause of the blaze was under investigation.