This is an archived article and the information in the article may be outdated. Please look at the time stamp on the story to see when it was last updated.
LOS ANGELES (KTLA) — An innocent bystander was killed by a stray bullet while she was on the street in Jefferson Park, where relatives say she was visiting family.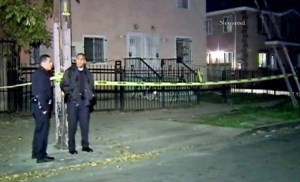 It happened around 7:30 p.m. Wednesday in the 1700 block of West 35th Place.
Police said that the victim was shot once in the head. She was not the intended target, according to investigators.
"I just know she was bringing her dog Smokey Bell to the car and I guess a group of people were fighting and shots rang out," the victim's sister told KTLA.
She said that her sister was 45 years old and went by the family name "Pumpkin." She did not live there, but she was there to visit relatives.
"She was well loved, liked," she added. "A lovely mother, sister. Anybody that knew her knows that she didn't deserve this."
"Whoever did this knows who they are, and they just need to know that they broke our family, our home. Me and my sisters will never be the same."
Anyone with information is asked to call Los Angeles Regional Crime Stoppers at at 1-877-LAPD-24-7.