This is an archived article and the information in the article may be outdated. Please look at the time stamp on the story to see when it was last updated.
A Tennessee woman has posted graphic images of herself to Facebook in an effort to raise awareness about domestic violence.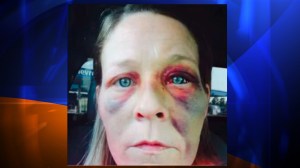 Angela Brower had to undergo surgery to repair a crushed eye socket and a broken nose, some of the severe injuries she sustained after her then-boyfriend attacked her, according to WREG in Memphis.
But prior to the surgery, she posted photos of her bruise and battered face to her Facebook page in an effort to let others know what had happened, and that it was not okay, her ex-husband Jason Brower told the television station.
The first images were posted to her Facebook page on May 23, and she has subsequently uploaded pictures nearly everyday.
Some of the photos included messages like, "It's time for us women to make a stand against domestic violence!!!!," "Maybe, just maybe this will make women walk away from violence!!!" and "Does this look like love to ANY OF YOU?."
"She finally came to the realization that it's time for women to start standing up and not being scared," Jason Brower told WREG.
Angela Brower hopes the photo she posted will help facilitate discussions of domestic violence and help women who feel trapped in abusive relationships get out, the television station reported.
Brower, who said she will not be able to work for at least 2 to 3 months as she recovers from her injuries, has set up a gofundme page to help cover her medical costs.
Her ex-boyfriend was arrested and charged in connection with the incident, according to the station.