This is an archived article and the information in the article may be outdated. Please look at the time stamp on the story to see when it was last updated.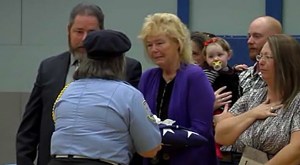 A Nevada woman finally received a letter from her father written during World War II to a daughter he would never meet.
PFC. John Eddington was killed in action just months after he wrote that letter.
He never had the chance to meet his daughter, Peggy Eddington-Smith, who was born while he was away at war.
But this weekend, during a special ceremony in Dayton, Nevada Peggy was finally able to hold her father's letter and read the words he wrote to his baby girl.
"Your daddy loves you very much and always will no matter where I am," the letter read in part.
Donna Gregory found the box of WW II mementos in her home in Nebraska and has spent 12 years trying to locate Peggy.
She was able to read part of the letter to Peggy, "You and your sweet mother are always on my mind each day and night."
Servicemen also presented Peggy with the medals her father earned for his service, including a purple heart and a bronze star.
CNN contributed to this report.