This is an archived article and the information in the article may be outdated. Please look at the time stamp on the story to see when it was last updated.
A 74-year-old woman was released from prison late Monday night after her conviction in a 1981 murder was set aside and her sentence was reduced.
Family and friends greeted Mary Virginia Jones with hugs and flowers as she walked out of Century Regional Detention Facility in Lynwood shortly before midnight.
"Words cannot express my gratitude to God and to my fellow man," Jones said after being released.
A granddaughter said she was just happy to have her grandmother back.
"Finally our family is connected at home, and I'm glad I finally get to have a grandmother in my life, and I missed that," she said.
Jones was freed from prison hours after a judge in a Los Angeles courtroom reduced her sentence.
Cries of joy erupted when it was announced that Jones, known as "Mother Mary" to friends and family, would go free.
"My mother never wavered on her belief of No. 1: her innocence, and the fact that she never should have been in custody," Jones' daughter, Demitra Jones-Goodie, said outside the courthouse Monday afternoon.
Jones was convicted of first-degree murder without the possibility of parole until law students at USC's Post-Conviction Justice Project intervened and had her case reopened.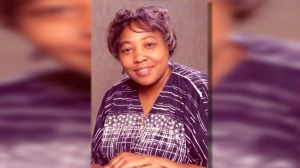 The Los Angeles County District Attorney's office conducted an independent investigation and set aside her conviction in exchange for a no contest to plea to voluntary manslaughter, according to a USC Gould School of Law news release.
In the 1981 crime, Jones was held at gunpoint and ordered to drive two kidnapped men to an alley where they were later shot, the release stated. One of the men died as a result of his injuries, Gilien Silsby of USC Gould School of Law said.
The USC students representing Jones argued that she would not have been convicted if the jury in the case had heard expert testimony on the effects of Battered Women's Syndrome, also known as intimate partner battering, according to the release.
Before the crime, Jones never had a run-in with the law, worked full time for the Los Angeles Unified School District as a teacher's aide and was raising her children, Heidi Rummel of the USC Project said.
Friends said they had waited a long time for Jones to be released from prison.
"We waited for this day a long time," Mary Thompson said. "It's exciting to see her finally vindicated."
Upon her release, Jones said she was looking forward to going home and that she was planning to visit her sister in Alabama.
Correction: An earlier version of this post incorrectly reported that two men were murdered. Only one man died as a result of the shooting incident. This story has been updated to reflect the changes.