This is an archived article and the information in the article may be outdated. Please look at the time stamp on the story to see when it was last updated.
A woman in her 50s was shot by police at a single-room-occupancy hotel in downtown Los Angeles on Friday afternoon, according to the LAPD's Media Relations Section.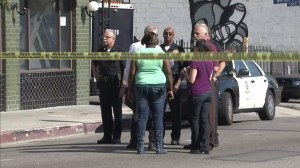 Officers were responding to a 12:45 p.m. call about a woman "creating a disturbance" in the St. George Hotel in the 100 block of East Third Street (map), a Los Angeles Police Department spokesman said.
When the officers arrived, the woman who made the call directed them to a nearby unit where a "possible suspect of an assault that had occurred previous," was located, LAPD spokesman Detective Gus Villanueva said.
The officers knocked on the door of the nearby unit in the historic hotel, which has in past provided housing to the formerly homeless.
"Apparently the woman came out the apartment, or the hotel room; she was armed with a knife. At that point, an officer-involved shooting occurred," Villanueva said.
The woman was described only as being in her 50s, Villanueva said. She was transported to a hospital in unknown condition.
Villanueva did not know the size and type of knife involved. No officers were injured, he said.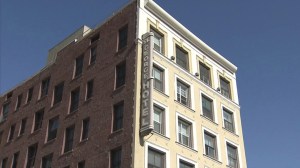 Detectives from the LAPD's Force Investigation Division, which investigates all incidents in which officers use deadly force, were responding, he said.
The shooting occurred at a building less than three blocks from Los Angeles City Hall and caddy-corner from the Ronald Reagan State Building.
KTLA's Feven Kiflegiorgis contributed to this report.