This is an archived article and the information in the article may be outdated. Please look at the time stamp on the story to see when it was last updated.
Authorities are searching for a man in connection with the shooting death of a woman Sunday morning at a home in Pasadena.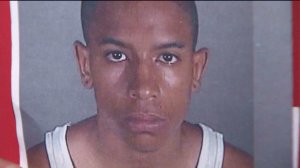 John John Crummie, described as approximately 20 years old, is a person of interest in the case, said Lt. Terysa Rojas.
"If anybody does see Mr. Crummie … we ask that you call the Pasadena Police Department, that you stay away from the individual," Rojas said. "He may or may not be armed. We don't know that."
Officers responded about 8:48 a.m. to the 1500 block of North Raymond Avenue (map) after receiving a call reporting shots fired, according to a news release from the Police Department. When they arrived, the officers found the victim, described as approximately 19 years old, "deceased from gunfire."
The woman was later identified by friends and family as Irais Acosta.
In an interview, one of Acosta's relatives described Crummie.
"My family says that he was very jealous," said Angel Olvera-Lopez, the victim's cousin. "She would only hang out with him. No time for friends."
Crummie "was an insecure boyfriend who made her delete her Facebook, her Instagram, everything," said a man who identified himself as Louie, a friend of Acosta. "He cut her off [from] social media."
Shortly before 8 p.m., an L.A. County coroner's van departed the scene with the victim's body inside.
A makeshift memorial was erected outside the residence.
Anyone with information was asked to call the Pasadena Police Department at 626-744-4241, or Detective Lt. Terysa Rojas at 626-744-4517.