This is an archived article and the information in the article may be outdated. Please look at the time stamp on the story to see when it was last updated.
A possible suspect was detained Monday following the search for a man who followed a woman to her home in the Mar Vista area, stabbed her, then took off with a laptop, authorities said.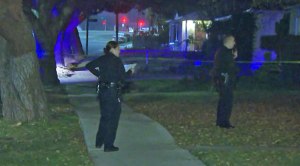 The home invasion occurred around 8:30 p.m. Sunday in the 12000 block of National Boulevard, according to the Los Angeles Police Department.
The victim believes the robber may have seen her at a gas station, then followed her home, police said.
A suspect was arrested Monday afternoon, according to a post on the LAPD Pacific Division Facebook page. However, police officials would only confirm that a possible suspect was detained.
"It is believed that the suspect is also responsible for other similar robberies around the city in a possible crime spree," the post stated.
Some type of altercation occurred between the two, and the woman was stabbed in the abdomen, according to the LAPD.
The man then grabbed a laptop and fled in a white pickup truck, police said.
The woman managed to call 911 and was taken to an area hospital in stable condition.
After receiving medical treatment, the victim gave investigators a good description of the robber, police said.
Investigators had planned to use surveillance footage from the gas station to help them track down the robber.
KTLA's Melissa Pamer contributed to this report.