This is an archived article and the information in the article may be outdated. Please look at the time stamp on the story to see when it was last updated.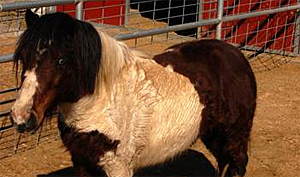 LAKELAND VILLAGE, Calif. — A woman was struck and killed Thursday while trying to catch her miniature horse who ran into the street.
It happened on Grand Avenue near Ontario Way shortly before 6 a.m.
Investigators say 43-year old Trisha Aragon and her daughter were running after the escaped animal when she was hit.
She was pronounced dead at the scene.
Her daughter was not injured.
The horse was eventually captured and transported to the Western Riverside County/City Animal Shelter in Jurupa Valley.