This is an archived article and the information in the article may be outdated. Please look at the time stamp on the story to see when it was last updated.
LOS ANGELES (KTLA) – The Los Angeles Police Department is investigating an incident in which a woman was ejected from a moving patrol car, an LAPD spokesman said Tuesday.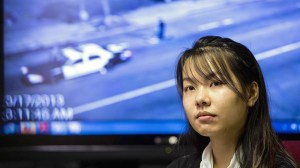 Kim Nguyen, 28, said she was handcuffed by LAPD officers early March 17, after a night in Koreatown. The officers told Nguyen she was being taken into custody on suspicion of public intoxication, she said.
She was put in the back of a patrol car and driven away, Nguyen recalled. She was then ejected from the vehicle while it was moving.
Nguyen has filed a lawsuit against the department. According to her attorney, Arnoldo Casillas, a local building's surveillance camera captured the incident.
The video shows Nguyen lying on the street after she was ejected from the police vehicle, Casillas said. Police officers are seen standing over her, and she appears to be bloodied and initially unconscious.
Nguyen said she lost several teeth in the incident, suffered bleeding on her brain and required three surgeries on her jaw.
The ordeal has ruined her life, she said in an interview.
"Who's going to want to marry me?" she asked. "Who's going to want to wake up to me?"
According to a fire department report, officers told paramedics they accelerated from a stop, heard a door open, and then Nguyen "presumably jumped/fell out of a moving squad car at approx. 10 mph."
Nguyen believes the car was traveling much faster than the officers claimed. She says the officers were negligent in not securing her properly and denies that she may have jumped out of the vehicle.
"I don't think that's possible. I mean, I was handcuffed behind my back," she said.
"I'm not sure what it is that I need," she said. "I'm not sure if the knowledge will make it all better, because it probably won't. But I would really like to know what happened – every little single thing."
An LAPD spokesman said the department's investigation will include an examination of the patrol car and interviews with the officers who took Nguyen into custody.
"That investigation will include the year and model of the vehicle itself," LAPD Sgt. Frank Preciado said. "We have different types of disengagements as far as the childproof-type of locks that are in the door, depending on the year."
Investigators will "ask the officers whether the individual was seatbelted in properly as well," Preciado said.