This is an archived article and the information in the article may be outdated. Please look at the time stamp on the story to see when it was last updated.
A 45-year-old licensed massage therapist was arrested Thursday in connection with the death of a customer at a Long Beach beauty salon.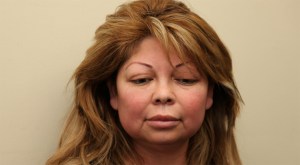 Rescuers were called to Areli's Beauty Salon on Pacific Avenue on Wednesday after a 36-year-old customer collapsed, according to a release from the Long Beach Police Department.
Long Beach fire fighters found Hamilet Suarez in cardiac arrest and began performing CPR, the release stated.
Suarez was taken to a local hospital where she was later pronounced dead.
The investigation into her death led detectives to 45-year-old Sandra Perez Gonzalez, who was renting a treatment room inside the beauty salon for giving massages, the release said.
As well as providing massages, Gonzalez also "advertises that she provides Vampire Facelifts, butt augmentation, and lip augmentation procedures," police said.
Inside her treatment room, detectives said they found medical equipment and multiple vials of controlled substances which Gonzalez was not licensed to administer.
Gonzales was booked on suspicion of possessing controlled substances and was being held on $10,000 bail.
Anyone who may have received treatments from Gonzalez was urged to contact Detectives Scott Lasch and Donald Goodman at 562-570-7244.