This is an archived article and the information in the article may be outdated. Please look at the time stamp on the story to see when it was last updated.
TORRANCE, Calif. (KTLA) — Two women are recovering after their pickup was riddled by police gunfire in Torrance, in what investigators are calling a case of mistaken identity.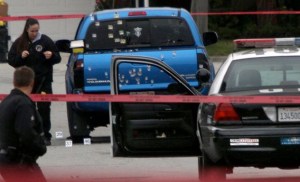 The officers who opened fire were on the lookout for fugitive Christopher Dorner. Another vehicle was also mistakenly fired upon not far away.
The first incident happened about 5:30 a.m. Thursday in the 19500 block of Redbeam Avenue.
It involved LAPD detectives from the Hollywood division, who were reportedly on a protective detail for an LAPD captain and his family named in Dorner's manifesto.
Emma Hernandez, 71, was delivering the Los Angeles Times with her daughter, 47-year-old Margie Carranza, when officers apparently mistook their pickup for that of Dorner.
Hernandez was shot in the back, and remains hospitalized in stable condition.
Carranza suffered a wound from glass that struck her hand and received stitches.
"Tragically, we believe this is a case of mistaken identity," Charlie Beck, chief of the Los Angeles Police Department, said on Thursday about the shooting.
Hernandez and Carranza are both expected to be okay. They have retained attorney Glen T. Jonas.
"There was no warning, there was no orders or no commands… just gunshots," Jonas told reporters.
According to Jonas, the women's vehicle was "the wrong color and the wrong model," compared to Dorner's.
He said that police "had the goal of administering street justice" and "didn't take the time to notice that these two older, small Latina women didn't look like a large black man."
"We trust that the LAPD will step up and do the right thing and acknowledge that what they did was unacceptable and we'll deal with it," Jonas said.
The second incident, which involved Torrance police officers, happened around 5:45 a.m. at Flagler Lane and Beryl Street.
The Torrance officers had apparently heard about the nearby incident, and while en route they encountered a dark pickup that looked similar to Dorner's.
They opened fire on the pickup. The man who was inside was not hit. So far, there has been no word of plans for a lawsuit from him.
–Chris Burrous reporting