This is an archived article and the information in the article may be outdated. Please look at the time stamp on the story to see when it was last updated.
The world's first automated burrito vending machine is now up and running in West Hollywood.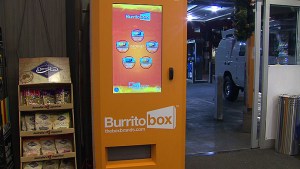 The Burritobox has been installed at a 24-hour gas station at 8380 Santa Monica Blvd.
"Customers select what kind of burrito they want, select additional toppings, and then the machine pops out a warm Evol brand pre-made burrito in flavors like free range chicken with beans and rice and uncured bacon with egg and cheese," according to eater.com.
Each burrito costs $3 and takes 60 seconds to heat up.
While customers wait for the finished meal, the machine's screen plays a music video or a movie trailer to help pass the time.
The company has announced plans for a second kiosk to open in at a 76 gas station in Century City on Jan. 18.