This is an archived article and the information in the article may be outdated. Please look at the time stamp on the story to see when it was last updated.
The Anaheim police officer whose K-9 partner was shot in the face last week said he was anxiously waiting for a dog he considers a family member to heal.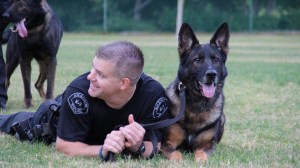 Bruno, a 7-year-old German shepherd, has been Officer R.J. Young's partner for longer than Young has been married.
"He was around before my wife, actually," Young said in an interview Wednesday. "He was our child before we had a child, and we treated him as one."
Now that Young and his wife Rachel have a 3-month-old baby, Grace, Bruno's protective efforts on the home front are missed, the couple said.
"He is her little protector — he watches over her all day and all night," Rachel Young said of Bruno's relationship with Grace. "He makes his rounds at night to make sure everyone is sleeping and OK."
Bruno was shot in the face March 20 when he accompanied SWAT officers in the search for men who had fired on Orange County probation officers, according to Anaheim police Lt. Tim Schmidt.
The gunman — identified as Robert Moreno Jr., 22 — shot at officers and Bruno after the dog found him hiding near a trash can, Schmidt said. Police fatally shot Moreno.
"There's no doubt that this dog saved three officers and was able to identify the gunman," Schmidt said last week.
The image of Bruno's face immediately after the shooting was "burned into" Young's mind, he said.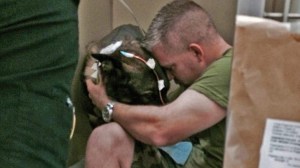 "It looked like half his face was gone. It was horrible," Young recalled.
After being shot, Bruno "yelped only once," according to an Anaheim Police Department blog post.
During the ride to the animal hospital, Young stayed with his partner.
"I was banging the cage and calling his name," Young said, according to the blog post. "I kept saying, 'We're almost there, Buddy.' He never cried. He never whined."
Bruno's recovery has generated national interest, with the K-9's newfound fans eagerly responding to updates on Facebook from the Orange County Police Canine Association, Friends of the Anaheim Police K9 Association and Yorba Regional Animal Hospital, where the dog was being treated.
On Tuesday, the hospital's Dr. Steve Dunbar provided an update on Bruno's condition on Facebook, saying the dog was "lively" and "getting stronger."
"The bond between Bruno and his family is heartwarming. He is becoming very animated and shows us when he is not getting his way," Dunbar, a veterinarian, wrote. "After a recent visit between R.J. and Bruno, he pouted, paced in his kennel and then shook his toys, showing his displeasure with having to stay in the hospital. He does not realize he has sustained the injuries he has."
Though he remains on IV fluids and oxygen supplement, Bruno was improving at a remarkable rate, Dunbar wrote. Bruno had part of his lung removed and his jaw rebuilt.
A bullet had lodged less than 1 inch from Bruno's heart, according to the Anaheim police blog post.
"It's so hard to see this dog, so full energy and life all the time, laying there so helpless," Rachel Young said. "It's tough."
Young planned to adopt Bruno and make him a permanent part of the family when the dog retires.
Friends of the Anaheim Police K9 Association was raising funds via a PayPal account to pay for Bruno's health care once he retires from public service. 
KTLA's Courtney Friel contributed to this article.
Correction: An earlier version of this post gave the incorrect name for the animal hospital where Bruno was being treated. The story has been updated.