This is an archived article and the information in the article may be outdated. Please look at the time stamp on the story to see when it was last updated.
Several military medals that were stolen decades ago from a local World War II veteran were replaced during a ceremony held in Pasadena Tuesday.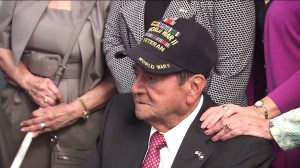 Walter "Buddy" Romero, now 87, needed his mother's permission when he enlisted in the U.S. Navy at the age of 17, in 1944.
During World War II, Romero served on a mine sweeper in the South Pacific, Rep. Judy Chu said during the ceremony.
The ribbons and medals Romero received during his tour of duty were stolen many years ago, according to his family, but on Tuesday he received framed replacements and a U.S. flag that had been flown over the Capitol.
The awards include a Combat Action Ribbon, a China Service Medal, an American Campaign Medal, an Asiatic-Pacific Campaign Medal, a World War II Victory Medal, among others, Chu said.
"He's got a Purple Heart in our hearts," Chu said.
The medals went missing about 35 years ago, Romero said. As he got older, he realized how much they meant to him, and his family contact Chu to help get the symbols of recognition restored.
The long time Alhambra resident was surrounded by many family members, including his wife of 61 years.
"I'm honored to receive my medals," Romero said. "I share these with veterans that did much more than I did. … I'm proud that I served."
He thanked Chu for helping to get the medals restored.
"I'm stunned," he said. "I'm very honored."
Romero has three daughters, 12 grand children and two great-grandchildren.
KTLA's Melissa Pamer and Steve Kuzj contributed to this article.