This is an archived article and the information in the article may be outdated. Please look at the time stamp on the story to see when it was last updated.
LOS ANGELES (KTLA) — Los Angeles police went a citywide tactical alert for a time Sunday evening as protesters angry about the George Zimmerman verdict took to the streets.
Most of the protesters were peaceful, but there were a few clashes with officers, resulting in about a half dozen arrests, police said.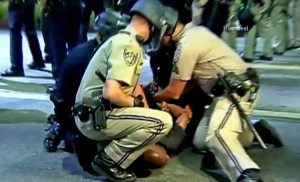 Authorities did not give a specific figure, but said one of the arrests involved the alleged battery of an officer.
In Hollywood, hundreds of protesters gathered after 8 p.m. at Hollywood Boulevard and Highland Avenue, holding signs and chanting.
The crowd gradually dispersed, moving south. Some protesters even ran through the lobby of the W Hotel.
The protesters assembled again around midnight at Sunset Boulevard and Cahuenga Avenue, near the CNN building.
Police finally declared an unlawful assembly around 1 a.m. and ordered the protesters to disperse.
Most of the crowd complied, but some people refused to leave the area.
Officers fired nonlethal beanbag rounds into the crowd, according to the LAPD. It wasn't clear if anyone was hit, but there were reportedly a few arrests made.
Elsewhere, a group of protesters marched onto the 10 Freeway in the Mid-City area Sunday evening, bringing traffic to a standstill.
Hundreds of people had gathered for a rally at Crenshaw and Martin Luther King Jr. boulevards around 4 p.m.
One group of protesters split off, stopping traffic in the intersection and then marching down a freeway on-ramp and onto the eastbound 10 Freeway.
Some of the demonstrators carried a large poster with a picture of Trayvon Martin.
The eastbound lanes were shut down from about 6:20 p.m. until 6:40 p.m., according to the California Highway Patrol.
The protesters then dispersed, moving southbound down Crenshaw to Coliseum Street, where a crowd remained until about 9 p.m.
Officers fired beanbag rounds after demonstrators threw rocks and batteries at police just north of the freeway, LAPD Cmdr. Andy Smith said.
Earlier in the day, a crowd of about 200 people gathered near Leimert Park.
The demonstration was mostly peaceful, but there was a brief standoff when protesters surrounded three patrol cars while dozens of officers stood by in riot gear.