This is an archived article and the information in the article may be outdated. Please look at the time stamp on the story to see when it was last updated.
[protected-iframe id="5e1fa5c78dbe51cf5375f47e5e3fa075-41641936-107036767″ info="https://art19.com/shows/ca81d746-dbb2-4a1e-8abc-3740a5bf976e/episodes/fe94ebb0-3b9c-4ba7-8bab-1fd7870341de/embed" scrolling="no"]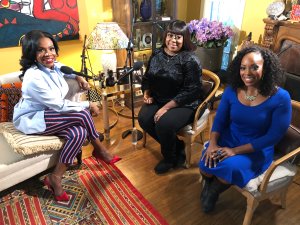 Comedian and Talk Show Host Loni Love opens up, like she never has before, about her love life, career and the importance of having a sister circle. Loni spills the tea on why she decided to choose life and be more mindful of her health. It's an intimate conversation that you won't want to miss.
Subscribe to "Diva Defined with Sheryl Lee Ralph": via iTunes | RSS
Sheryl Lee Ralph on social media: Twitter | Instagram
About the Podcast: "Diva Defined with Sheryl Lee Ralph"
More podcasts from KTLA: Frank Buckley Interviews | Spoken Dreams | The News Director's Office | California Cooking