This is an archived article and the information in the article may be outdated. Please look at the time stamp on the story to see when it was last updated.
David Litt was a White House speechwriter in the Obama Administration between 2011-2016. David was 24 years old when he was hired, making him one of the youngest White House speechwriters in history. His new book "Thanks, Obama: My Hopey, Changey White House Years" is a humorous memoir about his government service.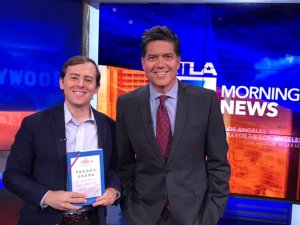 During this podcast, David details how he joined the Obama campaign as a volunteer in 2008 while still a college student and three years later found himself writing speeches for the 44th President of the United States. By the time David left the Obama Administration he'd been the lead writer on four White House Correspondents' Dinners and was a Special Assistant to the President and Senior Presidential Speechwriter. David is currently the head writer/producer for Funny or Die's office in Washington, D.C.
Related show links:
Subscribe to "Frank Buckley Interviews": via iTunes | RSS
Twitter: FrankBuckleyTV
Facebook: FrankBuckley
Instagram: FrankBuckleyTV
Email: FrankBuckleyInterviews@KTLA.com
About the Podcast: "Frank Buckley Interviews"
[protected-iframe id="01d8d37d568491dbebdd4a183ac8cbd4-41641936-107036767″ info="//html5-player.libsyn.com/embed/episode/id/5925220/height/360/width/640/theme/standard/autonext/no/thumbnail/yes/autoplay/no/preload/no/no_addthis/no/direction/backward/" width="640″ height="360″ style="border: none" scrolling="no" webkitallowfullscreen="" mozallowfullscreen="" allowfullscreen=""]