This is an archived article and the information in the article may be outdated. Please look at the time stamp on the story to see when it was last updated.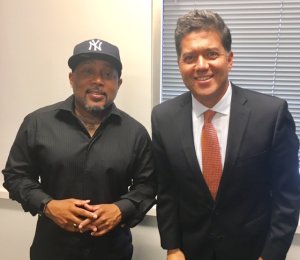 Daymond John is an entrepreneur and founder of the FUBU brand of hip hop apparel. He is also a "shark" on the long-running ABC program "Shark Tank," a best-selling author ("The Power of Broke"), a branding expert and consultant, and a motivational speaker.
Daymond started what would become the six billion dollar FUBU (For Us, By Us) brand in the the Hollis neighborhood of Queens in New York City while he was working as a waiter at a Red Lobster. During this podcast, Daymond tells us how the business was created and why. He also talks to us about what he looks for in entrepreneurs who are pitching him. He also talks to about how he's involved in the Miller Lite Tap the Future program.
Related show links:
Subscribe to "Frank Buckley Interviews": via iTunes | RSS
Twitter: FrankBuckleyTV
Facebook: FrankBuckley
Instagram: FrankBuckleyTV
Email: FrankBuckleyInterviews@KTLA.com
About the Podcast: "Frank Buckley Interviews"
[protected-iframe id="c2caf12c4a923da91ac5f0b4c870900b-41641936-107036767″ info="//html5-player.libsyn.com/embed/episode/id/5925229/height/360/width/640/theme/standard/autonext/no/thumbnail/yes/autoplay/no/preload/no/no_addthis/no/direction/backward/" width="640″ height="360″ style="border: none" scrolling="no" webkitallowfullscreen="" mozallowfullscreen="" allowfullscreen=""]