This is an archived article and the information in the article may be outdated. Please look at the time stamp on the story to see when it was last updated.
Dr. Bennet Omalu is a neuropathologist credited with discovering and naming Chronic Traumatic Encephalopathy (CTE) in football players. CTE is a progressive, degenerative disease of the brain found in people who've suffered repetitive brain trauma. The movie "Concussion" starring Will Smith was inspired by Dr. Omalu's story.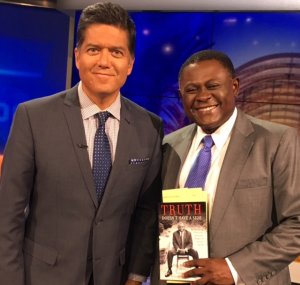 Dr. Omalu's discovery has had far-reaching implications for the NFL and for anyone who plays or who is the parent of someone who plays contact sports. In his new book "Truth Doesn't Have A Side: My Alarming Discovery about the Danger of Contact Sports," Dr. Omalu argues that no one under the age of 18 should play not just football but any of several contact sports.
During this podcast Dr. Omalu recounts his discovery of CTE and his struggle to get the NFL to accept his research, he talks about how his faith helps to inform his work and guide his life, and about why he believes every parent should prohibit their children from playing tackle football.
Related show links:
Subscribe to "Frank Buckley Interviews": via iTunes | RSS
Twitter: FrankBuckleyTV
Facebook: FrankBuckley
Instagram: FrankBuckleyTV
Email: FrankBuckleyInterviews@KTLA.com
About the Podcast: "Frank Buckley Interviews"
[protected-iframe id="5257b2ac44775b4e3563236388ae5126-41641936-107036767″ info="//html5-player.libsyn.com/embed/episode/id/5925222/height/360/width/640/theme/standard/autonext/no/thumbnail/yes/autoplay/no/preload/no/no_addthis/no/direction/backward/" width="640″ height="360″ style="border: none" scrolling="no" webkitallowfullscreen="" mozallowfullscreen="" allowfullscreen=""]