This is an archived article and the information in the article may be outdated. Please look at the time stamp on the story to see when it was last updated.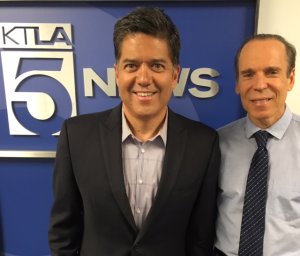 Dr. Joel Fuhrman is an expert on nutrition and natural healing, a best-selling author, and a board-certified family physician. Dr. Fuhrman says he has helped thousands of people to lose weight permanently and to reverse some chronic diseases through what he describes as a "nutrient-dense, plant-rich eating style."
During this podcast, Dr. Fuhrman talks about his new book "Fast Food Genocide: How Processed Food Is Killing Us And What We Can Do About It." He describes how the foods we consume in the typical American diet–from cold breakfast cereals to lunch time deli meats, breads and potato chips, to soft drinks, energy bars and fast food restaurant dinners–are linked to diseases such as type 2 diabetes, heart disease, and cancer along with other health issues.
Related show links:
Subscribe to "Frank Buckley Interviews": via iTunes | RSS
Twitter: FrankBuckleyTV
Facebook: FrankBuckley
Instagram: FrankBuckleyTV
Email: FrankBuckleyInterviews@KTLA.com
About the Podcast: "Frank Buckley Interviews"
[protected-iframe id="2bc6cea1d5d3e8dc6e2f4ec6f734068d-41641936-107036767″ info="//html5-player.libsyn.com/embed/episode/id/5970811/height/360/width/640/theme/standard/autonext/no/thumbnail/yes/autoplay/no/preload/no/no_addthis/no/direction/backward/" width="640″ height="360″ style="border: none;" scrolling="no"]