This is an archived article and the information in the article may be outdated. Please look at the time stamp on the story to see when it was last updated.
Dr. Michael Breus is a clinical psychologist and a sleep expert who appears regularly on The Dr. Oz Show. The study of sleep and helping people to sleep well is his life's work. Dr. Breus is a Diplomate of the American Board of Sleep Medicine and a Fellow of the American Academy of Sleep Medicine.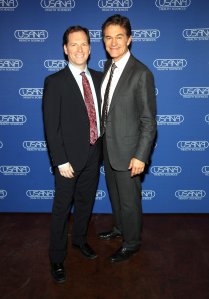 Dr. Breus is also an author who's written "The Sleep Doctor's Diet Plan: Lose Weight Through Better Sleep," "GOOD NIGHT: The Sleep Doctor's 4-Week Program to Better Sleep and Better Health" (in paperback as "BEAUTY SLEEP"), and now he's out with a fascinating book titled "The Power of WHEN: Discover your CHRONOTYPE–and the best time to eat lunch, ask for a raise, have sex, write a novel and more."
During this podcast, we discuss everything from snoring to sleep positions, the bed you should buy to how to deal with insomnia, and we discuss jet lag, sleep aids and the research behind his new book "The Power of When."
Related show links:
Subscribe to "Frank Buckley Interviews": via iTunes | RSS
Twitter: FrankBuckleyTV
Facebook: FrankBuckley
Instagram: FrankBuckleyTV
Email: FrankBuckleyInterviews@KTLA.com
About the Podcast: "Frank Buckley Interviews"
[protected-iframe id="95473cf8d422ba30d32f5efd9b8d7106-41641936-107036767" info="//html5-player.libsyn.com/embed/episode/id/5925262/height/360/width/640/theme/standard/autonext/no/thumbnail/yes/autoplay/no/preload/no/no_addthis/no/direction/backward/" width="640" height="360" style="border: none" scrolling="no" webkitallowfullscreen="" mozallowfullscreen="" allowfullscreen=""]