This is an archived article and the information in the article may be outdated. Please look at the time stamp on the story to see when it was last updated.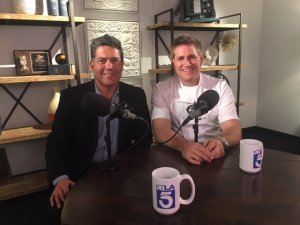 Curtis Stone is the award-winning chef and restaurateur for the highly regarded restaurants "Maude" in Beverly Hills and "Gwen" in Hollywood. He is also the best-selling author of several cookbooks, a TV host, and an entrepreneur with a line of cookware and appliances and a partnership with Princess Cruises.
During this podcast, Curtis discusses his journey from cooking in his mother's kitchen and grandmother's kitchen in his native Australia, to learning and rising through the ranks of the London restaurants of the famed chef Marco Pierre White to international fame as a TV host and now restaurateur.
Related show links:
Subscribe to "Frank Buckley Interviews": via iTunes | RSS
Twitter: FrankBuckleyTV
Facebook: FrankBuckley
Instagram: FrankBuckleyTV
Email: FrankBuckleyInterviews@KTLA.com
About the Podcast: "Frank Buckley Interviews"
[protected-iframe id="c2fc3a118982690341a5e9b01fec2a18-41641936-107036767″ info="//html5-player.libsyn.com/embed/episode/id/6649076/height/360/width/640/theme/standard/autonext/no/thumbnail/yes/autoplay/no/preload/no/no_addthis/no/direction/backward/" width="640″ height="360″ style="border: none" scrolling="no" webkitallowfullscreen="" mozallowfullscreen="" allowfullscreen=""]