This is an archived article and the information in the article may be outdated. Please look at the time stamp on the story to see when it was last updated.
[protected-iframe id="977c048308cbe32c40952600126f8863-41641936-107036767″ info="//html5-player.libsyn.com/embed/episode/id/6234510/height/90/theme/custom/autoplay/no/autonext/no/thumbnail/yes/preload/no/no_addthis/no/direction/backward/render-playlist/no/custom-color/000000/" width="100%" height="90″ style="border: none;" scrolling="no"]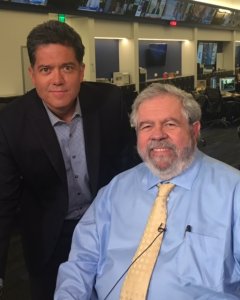 David Cay Johnston is a Pulitzer Prize winning investigative reporter and the author of the New York Times Best Seller "It's Even Worse Than You Think: What the Trump Administration Is Doing to America." David is also the founder and Editor-in-Chief of DCReport.Org, a non-profit news service covering Congress and the White House.
David has covered Donald Trump for nearly 30 years and "It's Even Worse Than You Think" is a follow-up to his book "The Making of Donald Trump." David is the author of seven books.
During this podcast, David recounts his many years of covering Donald Trump and his many conversations with him over the years. He also discusses the effects of President Trump's political appointments and policies. Finally, David tells us how portions of Donald Trump's 2005 tax return came into his possession and what the pages reveal about his income and taxes.
Related show links:
Subscribe to "Frank Buckley Interviews": via iTunes | RSS
Twitter: FrankBuckleyTV
Facebook: FrankBuckley
Instagram: FrankBuckleyTV
Email: FrankBuckleyInterviews@KTLA.com
About the Podcast: "Frank Buckley Interviews"
[protected-iframe id="574ceb39f82bac1b4e3da67701349a28-41641936-107036767″ info="//html5-player.libsyn.com/embed/episode/id/6234510/height/360/width/640/theme/standard/autonext/no/thumbnail/yes/autoplay/no/preload/no/no_addthis/no/direction/backward/" width="640″ height="360″ style="border: none;" scrolling="no"]