This is an archived article and the information in the article may be outdated. Please look at the time stamp on the story to see when it was last updated.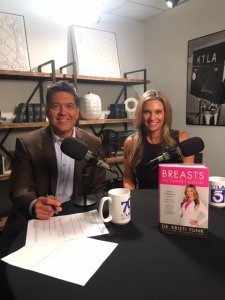 Dr. Kristi Funk is a breast cancer surgeon who was thrust into the public eye in 2013 when Angelina Jolie wrote an op-ed piece for the New York Times explaining her decision to have a double mastectomy. In it, she mentioned that she had the procedure at Dr. Funk's Pink Lotus Breast Center in Beverly Hills.
While Dr. Funk treats many celebrity and well-heeled patients, she has written a new book to help all women– "Breasts: The Owner's Manual. Every Woman's Guide to Reducing Cancer Risk, Making Treatment Choices, and Optimizing Outcomes."
During this podcast, you'll hear how Dr. Funk counsels women facing a breast cancer diagnosis. We also discuss the issues of overdiagnosis and overtreatment of breast cancer and her view on when women should undergo mammograms. She also reveals what women can do to reduce their chances of getting breast cancer including new advice on specific diets.
You'll also hear how Dr. Funk is committed to making sure that every woman receives high-quality care at Pink Lotus whether she has insurance or the means to pay for it. And how, as a result, Dr. Funk has barely been able to afford her own bills at times. You'll learn how Dr. Funk's faith sustained her during these times and also drives her in her work.
Related show links:
Subscribe to "Frank Buckley Interviews": via iTunes | RSS
Twitter: FrankBuckleyTV
Facebook: FrankBuckley
Instagram: FrankBuckleyTV
Email: FrankBuckleyInterviews@KTLA.com
About the Podcast: "Frank Buckley Interviews"