This is an archived article and the information in the article may be outdated. Please look at the time stamp on the story to see when it was last updated.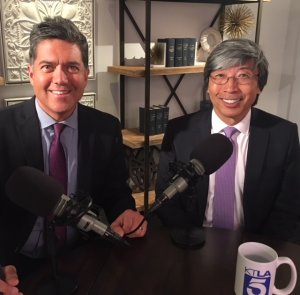 Dr. Patrick Soon-Shiong is the new owner of the Los Angeles Times and executive chairman of the Times, the San Diego Union Tribune and other publications that are part of the California News Group. He is also a biotech and pharmaceutical billionaire and the chairman and chief executive officer of NantWorks, a group of health-care and research companies.
During this podcast, Dr. Soon-Shiong discusses his vision for the Los Angeles Times including at least one proposed change that he announced as "breaking news" during the conversation–a column that he says will be called: "Second Opinion." The longtime Los Angeles resident also reveals why it was so important for him to purchase the Los Angeles Times after nearly two decades of Chicago-based control of the paper.
Related show links:
Subscribe to "Frank Buckley Interviews": via iTunes | RSS
Twitter: FrankBuckleyTV
Facebook: FrankBuckley
Instagram: FrankBuckleyTV
Email: FrankBuckleyInterviews@KTLA.com
About the Podcast: "Frank Buckley Interviews"
[protected-iframe id="ac6a11a8b99a149e86ab1f31aaa5e5bd-41641936-107036767″ info="//html5-player.libsyn.com/embed/episode/id/6797834/height/360/width/640/theme/standard/autonext/no/thumbnail/yes/autoplay/no/preload/no/no_addthis/no/direction/backward/" width="640″ height="360″ style="border: none" scrolling="no" webkitallowfullscreen="" mozallowfullscreen="" allowfullscreen=""]